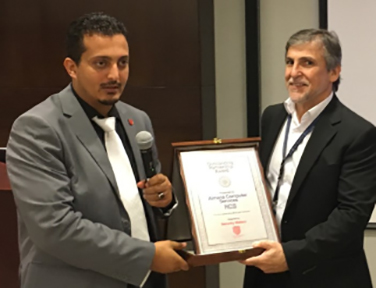 Nabil Al Otaibi (GM-ACS), receiving the partnership award from Mohamed Al-Khodari (CEO-Security Matterz)
ACS partnering with security matterz (UK)
Al Mana Computer Services (ACS) has announced a partnership with a UK-based firm to promote its IT Cyber Security Solutions in Qatar.
Its new partner, Security Matterz, specialist in IT Security Organization, provides consulting services, distribution of software solutions including data security and content management applications.
They have an in-depth experience and expertise relative to both the commercial and government sectors.
Nabil Al Otaibi, General Manager – ACS said "With our local knowledge and connections within public and private enterprises, coupled with the experience and background of our new partner, we believe that this partnership will bring a different dimension to Cyber Security in Qatar market to cover its demand for these solutions."