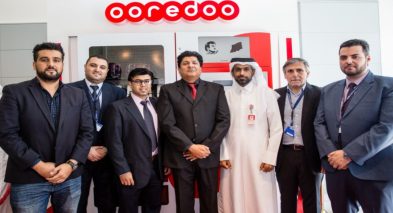 From R to L; Mohamed Omar (Technical Manager-ACS), Nabil Al Otaibi (GM-ACS), Jahan Khan (Sr. Manager-Ooredoo), Khalid Al Hamadi (Sr. Engineer-SEDCO), Nizar Ahmed (Sales Account Manager-ACS), Ahmad Anabtawi (Sales Manager-ACS) and Houssem Gouider (SSVM Project Engr.-ACS)
ACS delivers new self service vending machine (ssvm) to ooredoo
Al Mana Computer Services (ACS), with its partner SEDCO, has successfully provided a new generation of SSVM to Ooredoo as a testament to the product innovation and the ACS team's dedication.
The Self Service Vending Machine (SSVM) is the first of its kind in Qatar. It offers customers a host of new services, including an opportunity to buy smart devices – a first in the region.
With the delivery of the first SSVM to be installed in Gate Mall, ACS will be providing another two other units to Ooredoo, to be placed in Mall of Qatar and Doha Festival City.
Nabil Al Otaibi, General Manager – ACS said "This new generation of SSVM is one of first kind here in Qatar and offers customers a 24-hour convenience and faster service delivery. It is a part of our product line that will help us increase our market share and brand awareness."
The Service Team involved in this project includes ACS' well-experienced engineers: Wesam Shaher, Houssemeddine Gouider, Esehag Ibrahim and Nizar Ahmed in Sales.